I was born and raised in Gaborone, Botswana, where I attended Westwood International School for 13 years – throughout primary and secondary school!
I am currently based in Cape Town, South Africa. I am currently working towards an audio-visual research project and body of work for my Master of Fine Art (MFA), at the Michaelis School of Fine Art, University of Cape Town,
Describe how your upbringing impacted your career journey and your artwork.
My upbringing has impacted my creative journey thus far, by shaping a particular familial visual archive that is both personal and collective – as is informed by Botswana's national principle of Botho (highlighted by the common phrase, "I am, because we are"). Therefore, I believe my upbringing has impacted the manner in which I identify myself, and furthermore that it informs my visual references and socio-creative understanding of media and materiality.
In this way, the intellectual and conceptual concerns that inform my art practice at present, assess notions surrounding cultural value and context, with respect to identity – as is performed through object symbols in socialised space. In so doing, I unpack collective ideas surrounding identity formation, by my individualised experience.
Who/what made you want to do a Master of Fine Art?
I am interested in extending the manner in which we understand art on the continent, with respect to existing institutions of Fine Art and Craft, as well as unpacking alternative art spaces. In this way, my Master of Fine Art project focuses on Medu Art Ensemble – an alternative art space and/or interdisciplinary cultural organisation, that comprised mainly of South African exiles in Gaborone, Botswana, during the late 1970s and early 80s. My project springboards off of Medu's history and memory – comparing that regionally and internationally, in order to engage an intimate conversation regarding my identity across Botswana and South Africa, as dislocated.
Thus, my project's materiality engages sculpture, sound and installation, in order to unpack symbolic mediations of identity as national, cultural, racial and personal. Furthermore, my creative practice carefully considers traditions of Fine Art and Craft, in reimagining contemporary African art spaces and community cultural work – that is both relevant and accessible.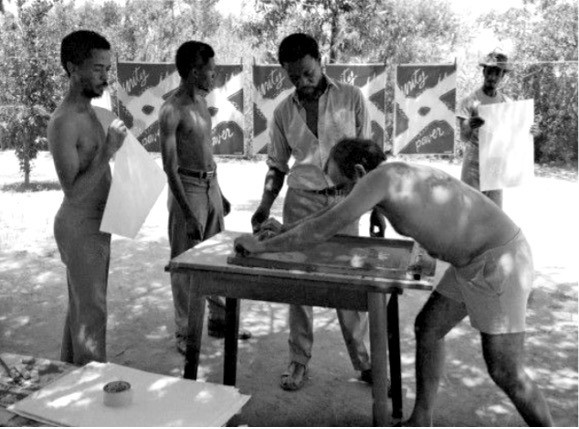 ‍
Your artwork is so versatile, it combines sculpture, sound, installation and research. Tell us more about your multidisciplinary/multi-medium approach to your work?
My multidisciplinary approach to art-making is often guided by concept and context. I majored in Sculpture for my Bachelor of Art in Fine Art – with a minor in New Media, all whilst hosting a series of shows on-air at UCT Radio. In this way, my approach at present attempts to combine audio-visual, analogue and digital languages to speak to my existence in African Contemporaneity.
How has your artwork/practise changed overtime? How has the pandemic influenced your artwork?
Interestingly, whilst my intellectual and conceptual concerns have remained broadly the same since 2012/13, my practice has developed an extended research archival base, through my tertiary education. In this way, I have also developed a close relationship with 3-dimensionality and dynamism in art, as well as aspects of storytelling. Thus, over the years, my practice has shifted from chalk pastels and acrylic paint to sculpture, sound installations and digital prints.
The pandemic has influenced my practice greatly as I have limited resources under Lockdown regulations. This has challenged me to think of alternative ways of engaging art practice in African Contemporaneity. Resulting in a deeper engagement with 'new' media, as well as extended art discourse surrounding a reimagining of art institutions in Africa.
What have been some of the biggest challenges you have faced as an African artist? What improvements need to be made in the Fine Arts field?
Some of the biggest challenges I have faced as an African artist include confronting epistemic violence and institutionalised racism.
I believe that Fine Art institutions at their core, need to prioritise healing, diversification and accessibility by resisting the insular parameters of art culture. In this way, I am interested in alternative art spaces (like Medu Art Ensemble, Chimurenga, Keleketla Library etc.), whom embrace interdisciplinary 'cultural work' as a tool for change. Thus, creative practice instead operates from a paradigm that considers innovative ways for public engagement, through creative exchange, collaboration and discourse.
What have been some of the highlights and milestones you have reached?
Exhibiting at the Botswana National Museum & Art Gallery, amongst a number of collaborations, group shows and art fairs across South Africa.
Representing The Botswana Pavilion as a 'Hub Manager' in the Creative Hubs Academy, in partnership with Nesta, British Council and Hivos.
What advice would you give to a fellow African pursuing a career in the arts?
Share your ideas with those who inspire meaningful conversations in your community, regarding the development of creative practice. Engage your peers in bringing your ideas to life and encourage collaboration. Have a clear sense of your vision, and go for it! Be sure also to take pauses to reflect, measure your impact, and plan for growth.
Tell us about your work at The Botswana Pavillon?
The Botswana Pavilion was formed in May 2019 by Batswana students at the Michaelis School of Fine Art; LegakwanaLeo Makgekgenene, Kim Karabo Makin, Thebe Phetogo and Thero Makepe, in preparation for a group show entitled The Botswana Pavilion: No Return, at Gallery MOMO (Cape Town).
In acknowledging our shared country of origin, and the manner in which it has shaped our artistic practice and creative contemporary, Th­e Botswana Pavilion is a space we created to freely depict and interrogate sentiments rooted in our sense of home; physically – that which we occupy contextually, in contrast to that which we carry within ourselves (even in dislocation).
Concerned with Botswana's creative development and artistic archive, the lack of Tswana representation in the international arts arena influenced our nomenclature. "The Botswana Pavilion" alludes to the Venice Biennale, where Botswana is yet to participate. An exposition of worldwide creative potential, which represents 89+ nation states from around the world, as art pavilions (including the Zimbabwe Pavilion and South Africa Pavilion amongst others); in 2019, ­the Botswana Pavilion signi­ficantly co-ordinated exhibitions in Botswana and South Africa which ran concurrently with the Venice Biennale (otherwise known as the 'art-world Olympics').
Amidst Botswana's arguably 'naïve' creative economy, we aspire to grow symbiotically with our international art contemporaries; by creating a platform for international visibility and art exchange. Furthermore, we hope to inspire a sustainable creative industry locally, by contributing to creative development in Botswana.
How can other people get involved in the work you do at The Botswana Pavillon?
Keep up to date with our latest projects via social media.
We are currently working on a quarantine collaboration and virtual exhibition with Pro Helvetia (Johannesburg), which will go live later this year. For this project, we are excited to work with creatives in the Southern Africa region, in encouraging creative development through exchange.
What are your future plans and where do you see yourself in 5 years? What is your dream project?
My future plans include exhibiting internationally, with a focus on the continent. I would love to participate in an art residency in Africa or Europe, and dream of exhibiting my work at Dak'Art Biennale in Dakar, Senegal.
As for The Botswana Pavilion, we dream of presenting Botswana's distinct creative identity as a national art pavilion at Biennales on the continent, before establishing a space at the Venice Biennale.
Anything else you would like to add?
Currently, I am exhibiting online in a group show presented by Re-curators at Latitudes Art Fair, entitled Past Present Currents: https://latitudesartfair.com/exhibitors/re-curators
I am also working on an upcoming project with the World Bank Art Program, as well as The Botswana Pavilion's third instalment (and first collaborative, virtual project), an exhibition entitled Collective Ties.
Please look out for updates via social media!
Links to social media pages/websites
Kim Markin's profiles
@thekimmakin (Instagram): https://www.instagram.com/thekimmakin/
Makin' Art (Facebook): https://www.facebook.com/thekimkarabomakin
Botswana Pavillion profiles
@TheBotswanaPavilion (Instagram): https://www.instagram.com/thebotswanapavilion/
@TheBotsPavilion (Twitter): https://twitter.com/TheBotsPavilion
The Botswana Pavilion (Facebook): https://www.facebook.com/thebotswanapavilion
Artwork of the month
Due to the special circumstances we find ourselves in currently; under Lockdown I've been working on expanding my creative practice digitally. Attached here, is one of my most recent works; details listed as as follows: Letsatsi, our Daily Sun, 2020, Photomontage, Dimensions variable
Letsatsi ka Setswana translates to the Sun, whilst it may also be used to describe a day. In this way, whilst experiencing the Lockdown in Cape Town's wet, winter months, I began an intimate reflection that considered the cultural value of the Sun in Tswana cosmology. This study extends off of themes from my current Master of Fine Art visual research project, which investigates geometric symbols of Setswana identity – with respect to context, spatial dynamics and Botho, from dislocation.
This work will be exhibited as a part of Turbine Art Fair, which took place virtually on 28 August to 8 September 2020: https://turbineartfair.co.za/